Horizontal-launching net guns 
The first Ace Capture horizontal launching net gun or 'pigeon gun' was developed for catching grounded migratory birds.  We now make two models and several different sizes, but this is still our most popular net gun for catching birds. 
The horizontal launching net gun design is based on our original handheld net gun. However, instead of throwing a net vertical to the ground, horizontal launching units throw nets horizontal to the ground. Nets launched this way land over any flat surface, making them ideal for catching groups of small animals and grounded birds. They can also be used for fish.
Ace handheld horizontal launching pigeon net gun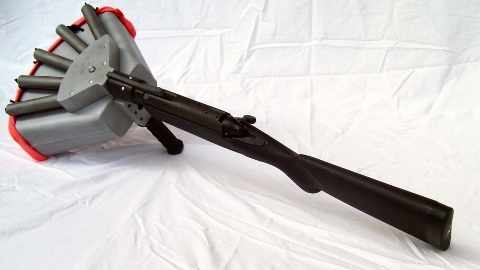 This handheld horizontal net gun is a variation of our handheld fixed net gun. It's popular for capturing groups of protected or nuisance birds that are grounded or nesting and need to be relocated.  Customers use this net gun for removing pigeons from urban areas, geese from airport runways and migratory birds from golf-courses, among other things.
This unit is perfect for situations where occasional capture is the norm. It's very portable, easy to use, has low recoil and can be operated comfortably by most adults. 
Ace mounted horizontal launching pigeon net gun with manual firing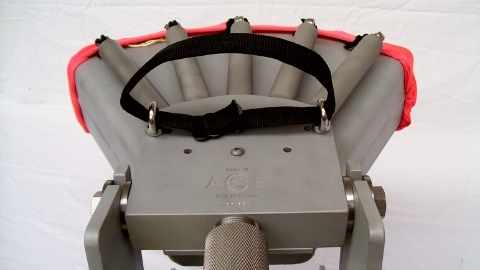 The mounted horizontal-launching net gun is designed to capture birds settled on a flat area such as the foreshore or on water.
It can be placed on the ground or mounted on a platform or vehicle, such as a boat.
This net gun has a greater range than our handheld model because it's mounted. 
Ace mounted horizontal launching net gun with radio controlled remote firing
This net gun is identical to the mounted horizontal-launching unit, except it can be fired remotely using a radio controller.
Because operators don't need to be near the unit to fire it, birds are able to land and settle near it without being disturbed. Operators usually choose a distance where they can see the target area with binoculars but also collect the captured birds a short time after firing.
Our radio-controlled remote firing technology can be used with many of our products, including our mass animal capture system. If you'd like to use remote-firing technology any of our units, please let us know when you place your order.
Ace mounted horizontal launching net gun with radio controlled remote firing: US$6,400.00
Ace mounted horizontal launching net gun with BOTH firing SYSTEMS: us $6800.00
ADDITIONAL ACE NET GUN COMPONENTS
All units come with everything needed for operation. Spare components can be ordered separately if required.
Spare net gun net with weights (approx dep. on size): US$755.00
Spare plastic net gun weight with trace: US$26.00
Spare steel net gun weight with a trace: US$85.00
Spare lycra net gun retainer: US$20.00